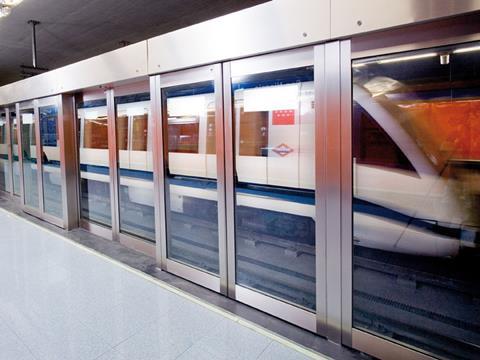 SPAIN: Overnight trials of platform screen doors commenced on four stations of Madrid metro Line 12 in November, which will last until early 2010. The PSDs will then be used during normal passenger service for two months before being dismantled and the platforms made good.

Westinghouse Platform Screen Doors, Faiveley, Manusa and Tasio have retrofitted the PSDs at Hospital Severo Ochoa, Casa del Reloj, San Nicasio and Leganés Central stations on Metrosur during non-traffic hours.

During the trial, trains will stop at the first half of the platform, in line with the full-height doors, which will be monitored to assess their performance. In the event of any malfunction the short trains can stop at the other half of the platform to allow passengers to disembark.

The trial is part of Metro de Madrid's long-term plan to upgrade and automate the metro network. Bombardier has now completed the resignalling of Lines 1 and 6.