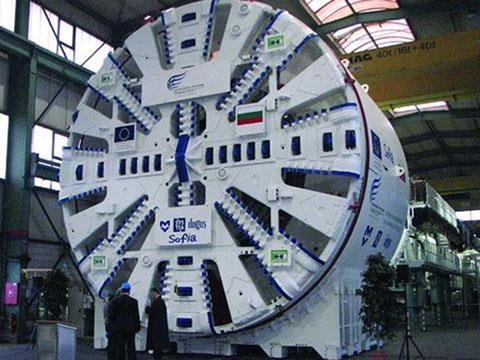 BULGARIA: Tunnelling for Sofia metro Line 2 started on April 6, when an 85 m long tunnel boring machine was launched in the presence of Prime Minister Boyko Borisov, Sofia Mayor Yordanka Fandakova, Sofia Metropolitan director Stoyan Bratoev and other government officials. Fandakova named the TBM after the city.

The €15m machine, weighing 1 600 tonnes, was purchased from Herrenknecht AG by Doğuş İnşaat, the contractor responsible for building the Nadezhda — Patriarch Evtimii section of Line 2.

The ceremony was held at the starting pit next to the road intersection at Nadezhda. The TBM will excavate a single two-track tunnel over the 3·8 km central section of Line 2 from Nadezhda to the junction of Vitosha Boulevard and Partiarch Evtimii, which will have four stations. Deadline for implementation is 15 months.

The machine will bore up to 9 m per day, generating about 1 000 m3 or 50 lorry loads of spoil per day. Construction staff will work 24 h/day, in three shifts.

The TBM will drill as deep as 23 m in places due to the nature of the terrain and the need to pass under two rivers in the city centre. The only station on Line 1 situated so deep is Vasil Levski Stadium. Lowest point on the route will be at Serdika station on St Nedelya Square where Line 2 passes under Line 1, 26 m below ground level.

Line 2 is funded by the EU's Operational Programme for Transport. The project has an indicative budget of €245·7m, of which around €157·4m is coming in grants from the European Regional Development Fund. €157m will come directly from EU funds and €27·7m from national co-funding; the municipality will contribute €61m.