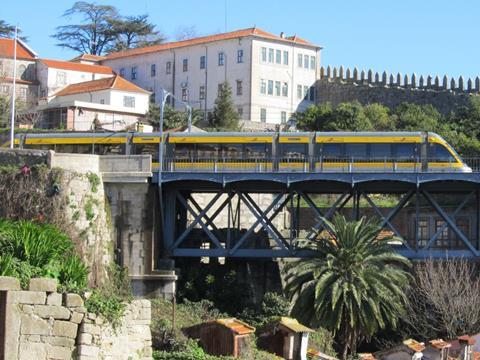 PORTUGAL: The Metro do Porto management board has approved the award of two construction packages for expansion of the city's light rail network to a consortium of Alberto Couto Alves and Ferrovial Agroman.
Worth €189m, the first package covers construction of the 3∙1 km Line G with four stations. This will connect Praça da Liberdade with the existing stop at Casa da Música via the main line station at São Bento, serving four stations and forming an orbital underground link through the city centre.
The second contract, worth €365m, is for a 3∙2 km extension of the existing Line D through the suburb of Vila Nova de Gaia, taking the line south from the current terminus at Santo Ovídio to serve stops at Manuel Leão, the Santos Silva hospital and Vila D'Este. Major structures will include a 770 m long tunnel and a viaduct.
According to Ferrovial Agroman, which has a €288m share of the two contracts, work on both lines is expected to begin in the second half of this year. The Line D extension is to be completed in 34 months and Line G in 42 months.
Both projects are to receive support from the EU's Cohesion Fund.