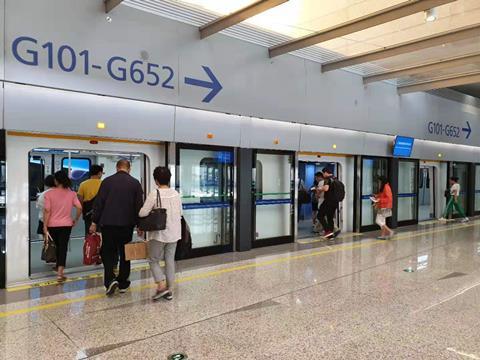 The Shanghai Pudong International Airport peoplemover opened on September 16. Operated by Keolis, it serves terminals 1 and 2 with satellite buildings S1 and S2.
Alexander Dennis is to supply six electric buses to Fullers360 to be operated by its subsidiary Waiheke Bus Co on behalf of Auckland Transport.
Melbourne's Yarra Trams has received full certification to the ISO 55001 standard in asset management.
A 5·4 km extension of the Bangkok Blue Line from Bang Wa to Lak Song began revenue service on September 30.
Bangladesh's National Economic Council has approve Dhaka metro lines 1 and 5.
Tehran metro Line 6 has been extended by 1·3 km from Shohada Square to Emam Hossein.
Autonomous shuttle manufacturer EasyMile has opened a regional office in Dubai.
The Częstochowa tram network reopened on September 21 following refurbishment work.
The EU has signed a 218m lev funding agreement that would go towards the purchase of 25 trams, 30 trolleybuses and 82 electric buses for Sofia.
SOR Libchavy is to supply 32 electric buses to Brašov and 10 to Zalău.
Sakarya municipality in Turkey plans to build a 2 km heritage-style tram line.
Biprogeo-Projekt is to carry out design work for a 2 km tram line on ul Rogowska in Wrocław under a 1·2m złoty contract.
Italferr has announced that planning for a second rubber-tyred tram line in Padova has started. The 5·4 km route would link the railway station with Voltabarozzo.
Trans-Alpha is to supply three low-floor trolleybuses to the Moldovan city of Bender.
EC Engineering is to supply pantographs for the 24 trams that Durmazlar is supplying to Olsztyn.
The trolleybus network in the Romanian city of Piatra Neamţ has ceased operations.
Alstom is to supply a Hesop reversible substation to Hamburger Hochbahn by the end of the year.
Sweco Consulting is to undertake design work for a 2·5 km tram extension in Kraków to the Azory housing estate under a 3m złoty contract.
Latin America development bank CAF has signed a US$296m loan agreement with São Paulo state for the construction of the Line 17 monorail in the state capital.