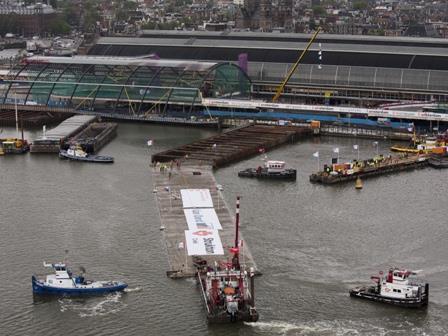 NETHERLANDS: Construction experts from around the world were in Amsterdam on May 31 to observe the complex operation to float a 20 000 tonne concrete immersed tunnel section for the north–south metro line into place beneath Centraal station.

The Noord/Zuidlijn will provide a fixed link from the north bank of the River IJ to the city centre, passing beneath the waterside main station. The tunnel section is 136 m long to match the width of the station, and 22 m wide. Nine years of preparations for its installation included replacing 3 000 of the wooden piles supporting the station with a concrete raft which spans a trench excavated to accommodate the tunnel. The concrete section was manoeuvred by tug into a specially constructed lock, and is expected to settle into its final position in early July. The work is being undertaken by Strukton and Van Oord.

The 9·7 km Noord/Zuidlijn will have eight stations at Buikslotermeerplein, Johan van Hasseltweg, Centraal, Rokin, Vijzelgracht, Ceintuurbaan, Europaplein and Zuid, where there will be an interchange with rail, bus, tram and metro services. The 7·1 km from Johan van Hasseltweg to Europaplein will be in tunnel, with three Herrenknecht TBMs currently in use.
There is an extensive public relations campaign for the project, and the progress of TBM Molly can be followed on line as it digs north from Scheldeplein to Rokin.