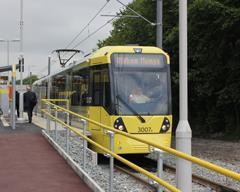 UK: Manchester Metrolink light rail services reached Oldham on June 13 with the opening of an 11·5 km line from Manchester Victoria under Phase 3a of the £1·4bn Future Metrolink expansion programme.
Serving seven intermediate stops, the route follows almost entirely the alignment of the former Network Rail line between Manchester and Oldham. Four stops have been added to supplement the former suburban rail stations at Dean Lane, Hollinwood and Failsworth, and a flyover carries trams over NR's Calder Valley line at Thorpes Bridge junction. The light rail line is double track throughout, with the exception of a short section at Newton Heath where the alignment is shared by a single-track freight branch to a household waste terminal.
Trams run every 12 min between a temporary terminus at Oldham Mumps and Victoria, before continuing through Manchester city centre to St Werburgh's Road on the South Manchester Line which opened last year. According to Transport for Greater Manchester, a 6 min interval service will be introduced 'as patronage grows and capacity through the city centre increases'.
Work to convert the remaining 11·8 km of former NR route to Rochdale via Shaw & Crompton to light rail standards continues, and TfGM hopes to reopen this section by early 2013. An on-street loop through Oldham town centre is expected to open by the end of 2014, when the 2·4 km section of former railway through Oldham Mumps will be closed and the station demolished.
The next stage in the network expansion is expected to see a 6·6 km on-street route from Piccadilly to Droylsden open before the end of the year. The Future Metrolink programme is being undertaken by TfGM's Project Delivery Partner Parsons Brinckerhoff, with construction and maintenance contracted to the M-Pact Thales consortium of Volker Rail, Laing O'Rourke and Thales UK.