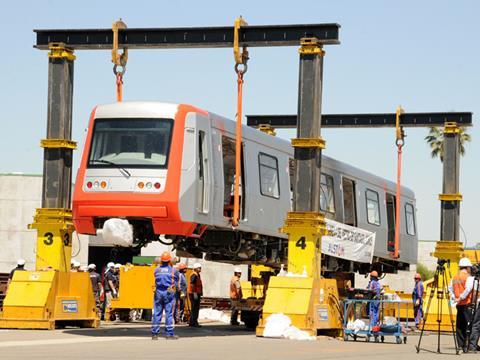 CHILE: Three Metropolis metro cars arrived in Santiago on December 15, the first of 36 cars being supplied by Alstom to supplement the fleet working steel-wheeled Lines 4 and 4A.

The cars were ordered by Metro de Santiago in June 2008 at a cost of US$48m, as an option on the original US$250m contract for 60 three-car trains placed in 2002.

Clemente Pérez, President of Santiago Metro, and Jean Pierre Fayemendy, General Manager, Alstom Transporte, greeted the vehicles on their arrival at the Puente Alto depot.

Assembled in São Paulo, the stainless steel cars are 22·7 m long and 2 900 mm wide. Traction motors and control equipment have been supplied by Alstom plants in Villeurbane, Tarbes and Ornans, whilst the Urbalis automatic train control was manufactured in Saint-Ouen.

Lines 4 and 4A have experienced significant growth in ridership and are now used by more than 750 000 passengers a day. Following trials at the depot the trains will enter service from March 2010, increasing capacity by more than 20%. Operated in a six-car formation, a complete trainset can accommodate 1 560 passengers, including 276 seated.