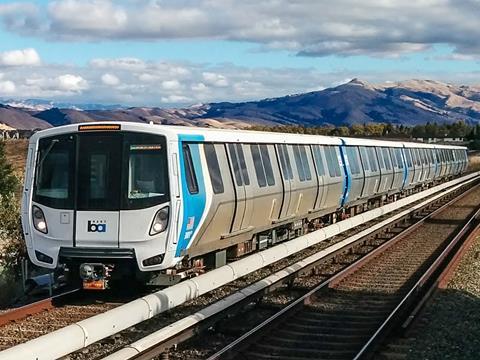 USA: The San Francisco Bay Area's BART metro is to withdraw alternate trains to reduce its weekday service from 15 min to 30 min headways from April 8 until further notice.
The operator said ridership data showed that social distancing would remain possible on all trains, while it would have greater flexibility to maintain a stable service should its staff need to take time off due to illness or to care for family members during the coronavirus pandemic.
The move will potentially save the operating budget $3m to $7m/month. BART is using the time of historically low ridership to undertake potentially disruptive infrastructure projects, with up to 400 employees shifting to capital improvement projects that are not funded by the operating budget. These have been designated as essential public works under the region's public health orders.
'Ridership is now at 7% of what is usual, and these changes allow us to increase essential rebuilding projects while also ensuring we can provide reliable and predictable service', said BART General Manager Bob Powers on April 6. 'With so many unknowns about the length of the shelter in place orders and the timing of recovery, we must take steps to protect the operating budget while also protecting our ability to run a service every 30 min.'
Weekend service will remain unchanged, as doubling weekend headways would see Saturday services at 40 min headways and Sunday service at 48 min headways
BART said its early estimates showed a 'bleak scenario' of possible budget shortfalls of $258m to $452m in the 2021 financial year, with federal stimulus funds bridging some but not all of the gap.