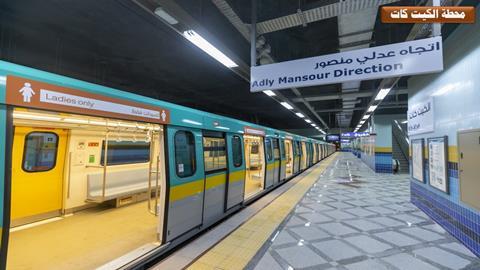 EGYPT: Initial passenger services on Phase 3a of Cairo Metro Line 3 running west from Attaba to Kit Kat were inaugurated by Minister of Transport Kamel Al Wazir on October 6.
The test operations are due to run until November, with a full revenue service scheduled to be launched during the COP27 climate summit.
Built by Orascom and Arab Contractors, the extension passes under two branches of the River Nile. It adds four stations, including the three-level junction station at Kit Kat which is 23 m underground. Northwestern and southern branches from Kit Kat to Rod El Farag and Cairo University are under construction. Completion of the line next year is expected to treble ridership to more than 1 million passengers/day.
Alstom designed and supplied the Urbalis signalling, telecoms and control systems for the Line 3 extension under a contract awarded in November 2015, and has also supplied the traction power system and depot equipment as part of the G3 Power Supply Consortium.
Line 3 is operated by RATP Dev using Hyundai Rotem trainsets.
Subscribers can read an in-depth article about Cairo's urban rail expansion projects in the Autumn 2022 issue of Metro Report International magazine.