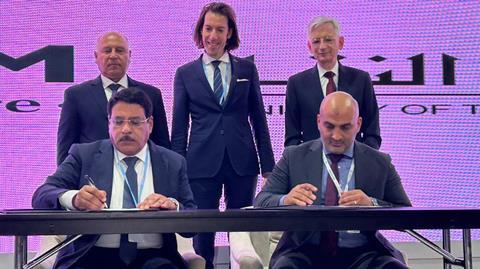 EGYPT: The National Authority for Tunnels has signed a framework agreement with Alstom covering the design, supply and maintenance of rolling stock and railway systems for the planned Cairo metro Line 6.
Signed on the fringes of the COP 27 climate conference, the agreement will facilitate negotiation of the technical and financial offers submitted by the supplier, with details expected to be finalised within eight months. Initial studies for the line were financed by the French government.
Line 6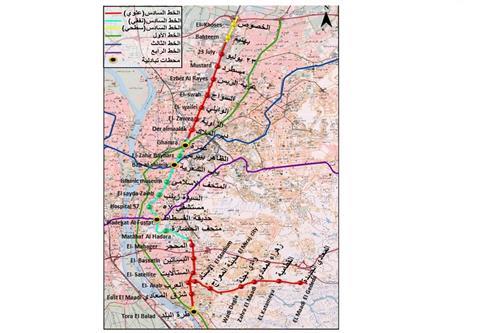 Intended to reduce congestion on the existing Line 1, the 35 km fully-automated Line 6 would run from Al-Khosos and Shobra El Kheima in the north to New Ma'adi in the south, with a 3·4 km branch to Tora El-Balad. It would serve 26 stations, of which 12 would be underground. There would be an interchange with Line 3 at Bab Al Shariya and with the future Line 4 in the Fustat area, providing increased travel options across the Greater Cairo conurbation.
Under the agreement announced on November 21 Alstom is to lead the supply of rolling stock and railway systems, including signalling and telecoms, third rail traction power supplies, substations, the depot and automatic fare collection equipment. It will also be responsible for long-term maintenance.
The manufacturer is expected to supply 294 Metropolis cars offering 'an unprecedented level of comfort', with a customised interior layout providing capacity for 2 580 passengers while offering enhanced accessibility and rapid passenger flows.
Alstom said it was committed to significant localisation, in line with Egypt's 2030 vision and sustainable development goals, adding that maintenance element would create long-term jobs and new opportunities for Egyptians to participate in the rail industry.
A decent life for citizens
Minister of Transport Kamel Al-Wazir said the signing of the agreement during COP27 'highlights the state's eagerness to implement collective green transport projects' which would 'preserve the environment and reduce environmental pollution and noise by relying on clean electric energy, which provides a decent life for Egyptian citizens'.
He said the project was justified economically by the time savings that Line 6 would offer, including easing of traffic congestion and a reduction in the number of surface trips by other transport modes, plus the creation of direct and indirect job opportunities during construction and operation phases.