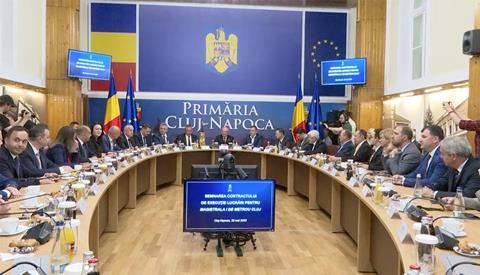 ROMANIA: A €1·8bn turnkey contract has been signed for the construction of the first metro line in Cluj-Napoca. Completion of the 21 km fully automated Line 1 with 19 stations is planned for 2031.
The line is to be built by a consortium of Turkish construction company Gülermak and its Polish subsidiary, railway systems supplier Alstom, and local construction company Arcada.
The consortium was named preferred bidder in March, and the contract was signed in the city hall on May 25 with the participation of Mayor Emil Boc, Prime Minister Nicolae Ciucă and Minister of Transport Sorin Grindeanu.
'When the metro is inaugurated in 2031, it will transport 164 000 passengers per day. It means 29 000 fewer cars in the city. And in terms of pollution, the metro will eliminate greenhouse gases equivalent to half a million planted trees every year', said Boc.
East-west route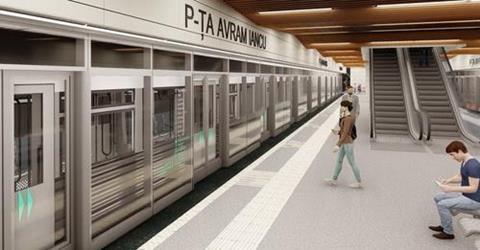 Phase one of the line will start at Sfânta Maria in the densely populated Mănăștur direct in the west of the city and run 7·5 km through the city centre via Gheorgheni and Sopor to Europa Unită, with nine stations. The depot connection will take the first phase to 9·2 km. The EU funding contribution requires completion of this phase within four years.
The second phase would included a 8·8 km western extension from Sfânta Maria to Țara Moților with seven stations, serving the new Florești residential area, a future hospital and planned development areas, and a 3 km branch running northeast from Piața Mărăști to the Bulevardul Muncii industrial area with three stations.
The line will be entirely underground, except for the depot.
'Ambitious and innovative'
Alstom's €400m share of the turnkey contract includes track, signalling and control systems, telecoms, power supplies, platform screen doors, control systems, cybersecurity and systems integration.
The Urbalis communication-based train control will support GoA4 unattended driverless operation with headways down to 90 sec.
'This is a very ambitious and innovative infrastructure project for the country', said Gian Luca Erbacci, President of Alstom's Europe Region
'The Cluj-Napoca metro is one of the biggest turnkey projects in Europe, covering a solid portfolio of signalling and infrastructure solutions that showcase Alstom's leadership in sustainable urban mobility. Furthermore it provides an exciting opportunity to innovate in the Romanian market with the driverless metro — our international track record gives us the unique expertise needed for such a pioneering project.'
The metro is being financed from loans and grants from the EU's Large Infrastructure Operational Programme 2014-20, Romania's Recovery & Resilience Plan 2021-27 and the Transport Operational Programme 2021-27.