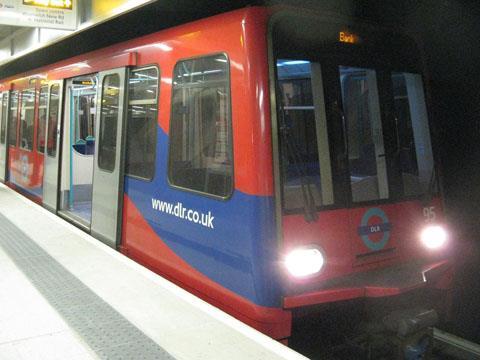 UK: Mayor of London Boris Johnson inaugurated the 2·5 km extension of London's Docklands Light Railway from King George V to Woolwich Arsenal on January 12, two days after the start of services.
The infrastructure on the £180m light metro extension was built in 3½ years by a joint venture of Morgan Est and Colas Rail on behalf of Woolwich Arsenal Rail Enterprises Ltd. WARE is a joint venture of Land Securities Trillium and Royal Bank of Scotland, and has a 30-year private finance initiative contract for the extension which was signed in 2005. Services are operated by franchisee Serco Docklands under contract with Transport for London.
About 1·8 km of the extension runs through parallel 6 m diameter bored tunnels up to 35 m under the River Thames. A 40 m deep and 15 m wide shaft adjacent to the river flood wall accommodates power distribution and communications systems. To minimise ground borne noise 0·5 km of the extension used floating slab track.
'Woolwich has long lacked the transport links that encourage the creation of new jobs, homes and shops, and this is exactly the sort of project that will help kick the credit crunch where it hurts', said Johnson. 'People in this part of London will now be just a 24 min hop, skip and a jump away from the [2012] Olympic site.'