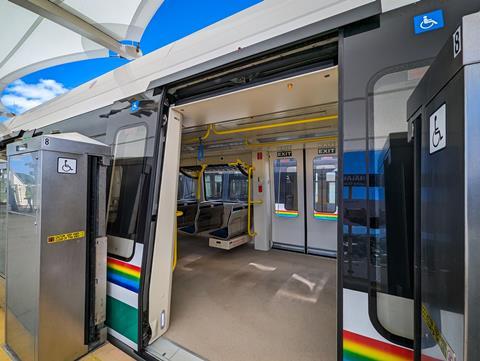 USA: Revenue services on the first phase of Honolulu's Skyline-branded light metro line started on June 30 with an opening ceremony held at Aloha Stadium at 14.00.
Passengers possessing a valid HOLO public transport smartcard can travel for free until July 4. The first section of the elevated metro line serves nine stations on a 17·7 km route between East Kapolei and Aloha Stadium in the western and northern suburbs. The end-to-end journey time is 22 min.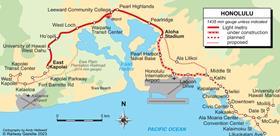 The project was developed by Honolulu Authority for Rapid Transportation on behalf of the Honolulu Department of Transportation Services.
Operational and safety testing and related certifications were completed on June 13 by lead contractor Hitachi Rail, which is also responsible for operation and maintenance for 12 years.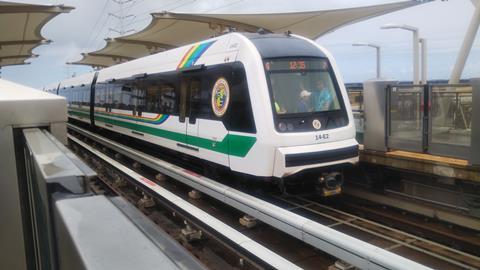 While a number of urban and airport peoplemovers exist across the country, Hitachi Rail says Skyline is the first fully automated GoA4 metro line in the USA.
However, the metro project has been subject to serious delays and cost overruns since construction started in 2012. It had been hoped that the first section could open in 2018. The budget for the full 30·9 km line was originally put to $7bn, but it is now expected to cost at least $10bn.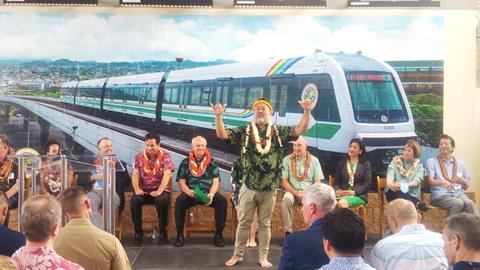 The municipality announced the Skyline brand on June 16, representing the view of the city and the ocean that can be seen from the elevated line.
The line is expected to relieve congestion on the busy O'ahu east-west roads.
Hitachi Rail has designed and built the rolling stock and train control systems under a turnkey contract, also supplying subsystems including fire detection and alarm systems as well as platform screen doors.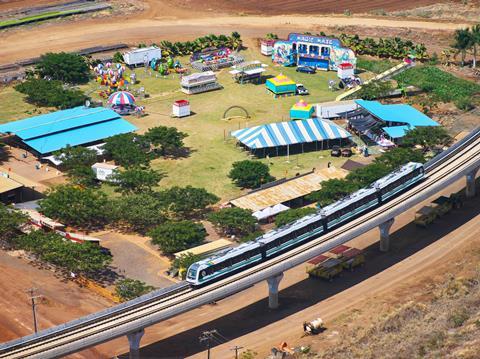 'We're delighted to have delivered Honolulu's largest ever infrastructure project, which will have a major impact in reducing congestion and emissions on the island. Eliminating car journeys by up to 40 000 a day, once the full system is complete, this will make a huge difference to travel in Hawaii', said Alistair Dormer, Executive Vice President of Energy & Mobility at Hitachi Group.
Subsequent stages
When completed, the line will serve 19 stations on a 30·9 km route. The second, 8·4 km section is currently under construction southeast from Aloha Stadium to Middle Street-Kalihi Transit Center. It is expected to be completed in the summer of 2025. A third 4·8 km phase is planned to run southeast to Civic Centre in Kakaako, before the last 1·6 km section extension reaches the terminus at Ala Moana Transit Center.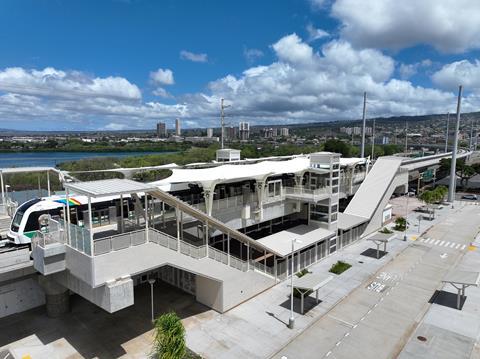 Automated four-car trains
Hitachi Rail has supplied 20 four-car trainsets under a $1·3bn contract signed in 2011, 12 of which are being used on the first section.
The 79·2 m long, open-gangway trains have a capacity of 800 passengers. They feature dedicated space for wheelchair users and further space for bicycles, surfboards, prams and luggage. They are equipped with air conditioning and wi-fi.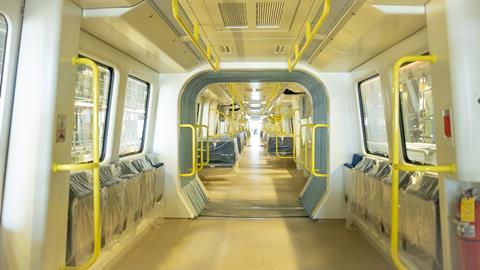 The car bodies were produced at Hitachi's plant in Reggio Calabria in Italy before being fitted out in Pittsburgh.