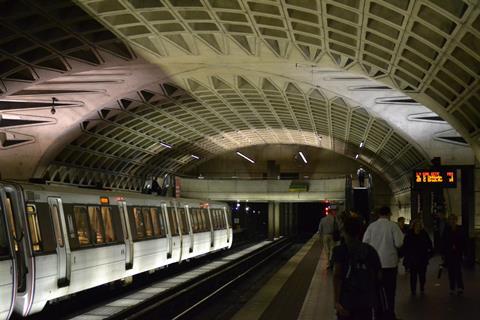 USA: Washington Metropolitan Area Transit Authority General Manager & CEO Paul J Wiedefeld retired with immediate effect on May 16 and Chief Operating Officer Joe Leader has resigned.
The departures came after the Washington Metrorail Safety Commission identified lapses in train driver recertification. An investigation by Chief Safety Officer Theresa Impastato found that nearly half of the 500 drivers had lapsed certification, and 72 who had been out of compliance for more than a year were immediately removed from duty.
The resulting reductions in services are expected to continue until the end of May, and the recertification of around 250 drivers is expected to take up to three months.
'The WMATA board of directors received a safety briefing on [May 12] that included learning that nearly half of all rail operators had lagging recertifications', said WMATA board Chair Paul C Smedberg on May 15. He said this was 'unacceptable and extremely disappointing', and the board had directed the metro's management to 'provide a full accounting of how and why this occurred and develop a plan to ensure it is remedied as fast as possible'.
Smedberg said 'while Metro has made strides in recent years, this issue demonstrates that more work must be done to ensure an organisational-wide safety culture.'
Mayor Muriel Bowser tweeted that 'I have advocated for WMATA to have the necessary funding to improve the system's safety, reliability, and capacity. But this is not a funding issue; it is a management problem.'
In January Wiedefeld had announced his intention to retire on June 30, but decided to bring forward the date 'to provide a more timely transition' to Andy Off who had been named as Interim General Manager.
'I believe conveying all authority of the General Manager's office to Off better positions him to address the challenges that came to light this week, while preparing for the transition to the next CEO', said Wiedefeld. 'Stepping aside a few weeks ahead of schedule is in the best interest of the agency and its workforce.'
On May 10 the WMATA board had announced the appointment of Randy Clarke as General Manager & CEO. He will join in 'late summer', from Capital Metro in Austin, Texas, where he is currently President & CEO.
'With the current challenges facing Metro, we knew we needed to find an accomplished and innovative executive who has a track record of effective leadership', said Smedberg. 'It was obvious to the board that Clarke was clearly the one candidate who most demonstrated his ability to be a transformative, strategic thinker who would redefine how the organisation moves forward over the next several decades, ensuring Metro's important role in driving future regional mobility.'