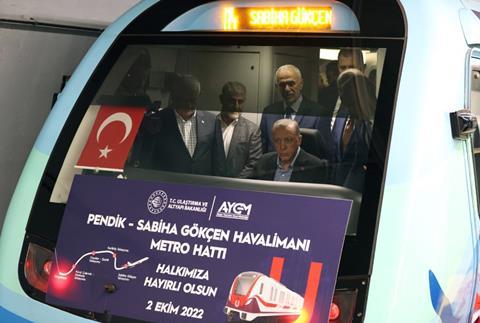 TURKEY: An extension of Istanbul metro Line M4 to Sabiha Gökçen airport on the Asian side of the city opened on October 2. The city's second airport is the third busiest in Turkey with around 600 flights and 105 000 passengers a day, but was previously only served by buses, taxis and private vehicles.
The first 21·7 km section of M4 between Kadiköy and Kartal with 16 stations opened in 2012. The second phase opened in 2019 adding three stations and taking the line to 26·5 km. The latest 7·4 km extension adds a further five stations at Tavşantepe, Fevzi Çakmak, Yayalar, Kürtköy and Sabiha Gökçen airport.
A journey over the full 34 km of M4 takes 50 min, and the line has a capacity of 1·2 million passengers a year.
There is an interchange at Ayrilıkçeşme with the Marmaray suburban rail line which in turn connects either directly or indirectly to all of Istanbul's metro and tram lines on both sides of the city, and there are ferry connections at Kadiköy.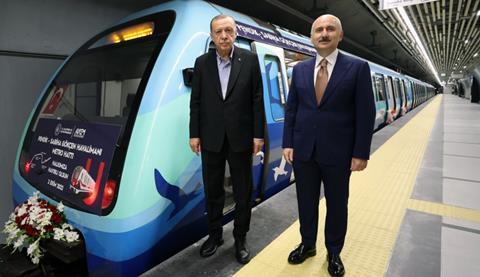 The extension was built by a consortium of Gülermak and YSE Construction under a €169·5m contract awarded following a 2015 tender which attracted 14 bids.
Work on the line was slowed by a number of problems including Turkey's 2018 economic crisis and subsequently the Covid-19 pandemic.
A branch which will link M4 to the eastern section of the Marmaray line at İçmeler via five new stations is under construction, while M10 will connect the long-distance station at Pendik on the Marmaray corridor to Sabiha Gökçen airport via two new stations and then running over M4. No completion dates have been announced for either project.
Speaking at the opening ceremony for the M4 extension, Transport Minister Adil Karaismailoğlu said the ministry is developing six metro lines in Istanbul, of which the M3 extension from Başakşehir to Kayaşehir and the as yet un-numbered line from Gayrettepe to Istanbul's new main airport and on to Kayaşehir will be opened this year.
Development of Istanbul's metro system has been complicated by Turkey's 2019 local elections which saw control of the main cities, including Istanbul, pass from the ruling AKP party to the main opposition CHP.
Subsequently the national transport ministry announced that it was taking over delivery of both Istanbul airport metro lines and four other urban rail schemes, rebranding them with its own U logo, in place of the M used by Istanbul municipality for its metro network.