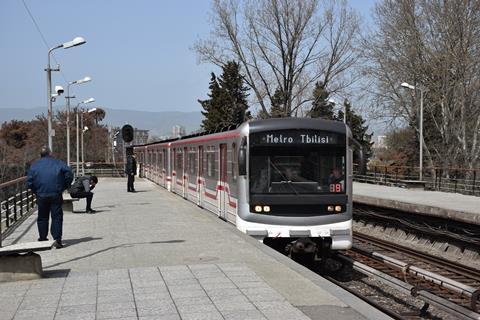 GEORGIA: The city of Tbilisi has announced that it is to terminate a contract for Metrowagonmash to supply metro trains, because the Russian manufacturer is now subject to sanctions imposed by Georgia's international partners as a result of the Russian war against Ukraine.
'Georgia enforces international financial sanctions. Consequently, Tbilisi City Hall does not intend to co-operate with a sanctioned company, and the contract with Metrowagonmash will be terminated', the municipality said in a statement on May 19.
In late 2021 Transmashholding subsidiary Metrowagonmash was awarded a contract to supply 40 metro cars, with the order to be financed by the European Bank for Reconstruction & Development.
However, international sanctions imposed following Russia's full-scale invasion of Ukraine in February 2022 meant EBRD was no longer able to provide financing.
In late 2022, Tbilisi Mayor Kakha Kaladze said negotiations were underway for the purchase of trains from an alternative supplier, but in January this year Deputy Mayor Irakli Khmaladze said it had not been possible to find one at an acceptable price.
Metrowagonmash itself was not subject to sanctions, and so the contract was renegotiated to enable the use of EBRD financing.
However, further sanctions announced on May 19 do apply to Metrowagonmash, which the United States Department of State said is involved in the production of military equipment, including chassis for surface-to-air radar, weapons systems and armoured tracked vehicles.