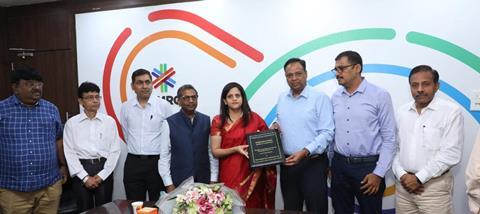 INDIA: Mumbai Metro Rail Corp has awarded Delhi Metro Rail Corp a 10-year contract to operate and maintain the future underground automated Line 3.
The capital's metro operator was the lowest bidder in an international tendering process. It will be responsible for day-to-day operation of the line and rolling stock and infrastructure maintenance, with MMRC saying the key performance indicators are designed to ensure 'clean, efficient and hustle free services'.
MMRC will retain responsibility for revenue management, multimodal integration, brand management, public relations, legal compliance, non-fare box revenue, servicing debt and co-ordination with utilities.
The 12·4 km Aarey to BKC first phase of Line 3 is scheduled to open by the end of this year, with the 21·3 km BKC to Cuffe Parade phase two following by June 2024.
'We are happy to associate with DMRC, one of the leading metro operating companies in the country, for operation and maintenance of Mumbai's first underground metro line', said MMRC Managing Director Ashwini Bhide on May 26. 'We at MMRC are committed to provide, sleek comfortable, safe, reliable and high-quality service to our passengers in cost effective way.'