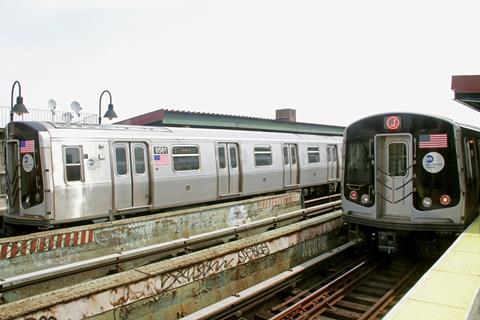 USA: A 13-point plan to return subway and commuter rail services to pre-coronavirus levels was launched by New York's Metropolitan Transportation Authority on June 8.
The action plan includes:
an increase in services;
additional cleaning and disinfecting;
mandatory use of face coverings by both staff and passengers;
enhanced safety and security;
employee safety initiatives;
'innovative' cleaning techniques;
distribution of hand sanitiser and face masks ;
new signage, including floor markings with directional arrows;
staggered business hours;
2 million masks being provided by the state and city;
contactless fare payment;
partnerships and use of technology to make the system safer;
a data dashboard to display metrics.
'As more New Yorkers return to work, the MTA continues to lead the nation in customer and employee safety and we are doing everything possible to transform our system and operations for the future', said Chairman & CEO Patrick J Foye. 'This aggressive plan includes global best practices, input from the business and labour communities and public health officials, and is the product of months of work from the talented team at the MTA.'
The Tri-State Transportation Campaign advocacy group said 'transit is vital to the functioning of the city. Thanks to the MTA's Phase 1 plan, we'll have a faster, more comprehensive recovery in New York.'
Since May 1 NYCT has seen a gradual increase in ridership to more than 700 000 weekday subway passengers and 700 000 bus users. To accommodate this, the subway is returning to a regular weekday service, although it will continue to close between 01.00 and 05.00 each night for cleaning.
Long Island Rail Road announced service enhancements on May 26, including the operation of longer trains to provide a 15% increase in capacity. A new timetable introduced on June 8 provides around 90% of the normal pre-virus weekday services.
Metro-North has increased morning and evening peak capacity by 26% with the addition of another 19 trains. From June 15, the commuter rail network expects to operate 61% of its normal weekday service, including extra trains in the peak periods.