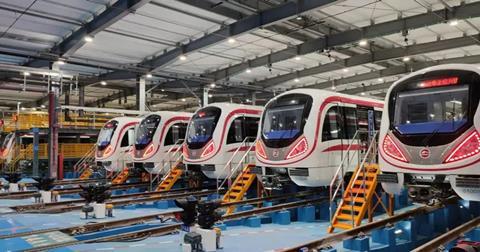 CHINA: A 26·3 km southern extension of Shaoxing metro Line 1 from China Textile City to Fangquan with 18 stations opened on April 29, taking the line to 47·1 km and 28 stations.
Shaoxing started planning a metro network in 2011, and the construction plan was approved by the National Development & Reform Commission in May 2016.
The initial part of Line 1 which opened in June 2021 is known as the Keqiao Line. The western terminus at Guniangqiao provides an interchange with Hangzhou Line 5.
Line 1 is operated using 18 six-car B2 trainsets manufactured by CRRC Nanjing Puzhen and Beijing Metro Vehicle Equipment Co. These are 120 m long, 2 880 mm wide and 3·8 m high with a capacity of 2 034 passengers. A further nine trainsets are on order for Line 1.
Line 2 is under construction for opening in 2023, and a 7·3 km, six-station branch of Line 1 is scheduled to open in 2024.