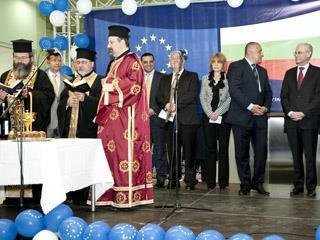 BULGARIA: A 2·1 km extension of the Sofia metro from Mladost 1 to Mladost 3 and Tsarigradsko Shose was inaugurated by Prime Minister Boyko Borisov and European Council President Herman Van Rompuy on April 25.
The extension has been built by the Metro Mladost Union joint venture, which began tunnelling in July 2010. EU grants met €61m of the €95m cost.
Tsarigradsko Shosse station is close to the Inter Expo Center, and has a 1 300 space park-and-ride facility intended to attract suburban commuters heading for the city centre. Work is underway to continue the line to the airport by 2014.
Metrowagonmash is scheduled to begin delivering 18 three-car Rusich series 81-740/741 metro trainsets to Sofia in May, with the last to arrive during October. Six are to be used on Line 1, and 12 will be allocated to the north-south Line 2 which is under construction for opening this year.