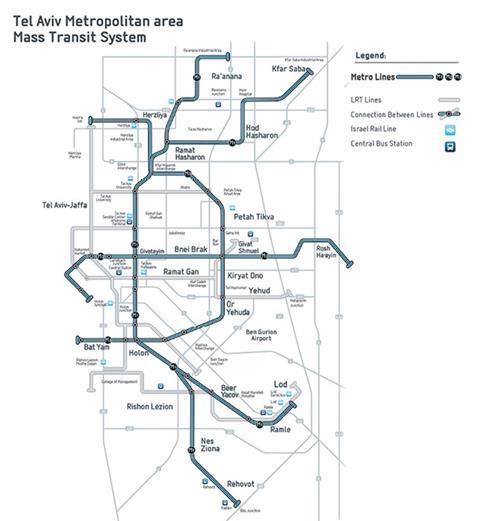 ISRAEL: Tel Aviv metro promoter NTA expects to start consultation next month for the first stages of three proposed underground heavy metro lines, for which plans were announced last year.
Totalling 145 route-km with around 100 stations, the metro network is provisionally expected to cost around US$45bn. It would interchange with the Red light rail line now under construction between Petah Tikva and Bat Yam, as well as the planned Green Yellow and Purple LRT lines.
The 44 km Line M1 would run from Kfar Safar in the northeast to Rehovot in the south, with branches to Ra'anana and Lod, serving 31 stations in total. The east-west Line M2 would link Yafo with Rosh Ha'ayin, while the 38 km Line M3 with 24 stations would connect Herzliya with Bat Yam via Petak-Tikva.
Consultation for the northern sections of lines M1 and M3 is due to start in March, when documentation will be presented to the local authorities. These two routes are expected to be ready for operation by 2030. No timescale has been announced for the start of consultation on Line M2.