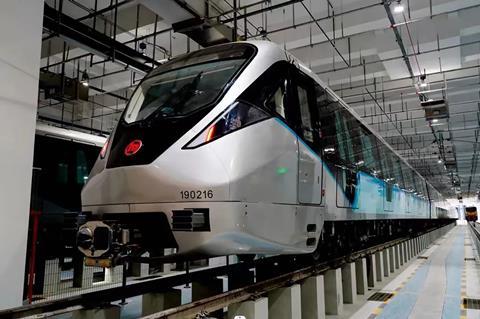 CHINA: Three more sections of metro have been opened in Hangzhou, adding more than 60 km to the network on a single day.
The biggest project inaugurated on September 22 was the 55 km fast metro Line 19, known also as the Hangzhou Airport Rail Express. This runs from Hangzhou Xi station in the west to Hangzhou Dong high speed station via the city centre, and then turns turn southeast across the Qiantang River to reach Hangzhou Xiaoshan International Airport, terminating at Yongshenglu. A 4 km western extension to Tiaoxi has yet to open, along with four of the planned 18 stations.
Construction of Line 19 was approved in November 2017 and work began in 2019. Around 47 km of the line and 14 stations are underground, and the remainder is elevated.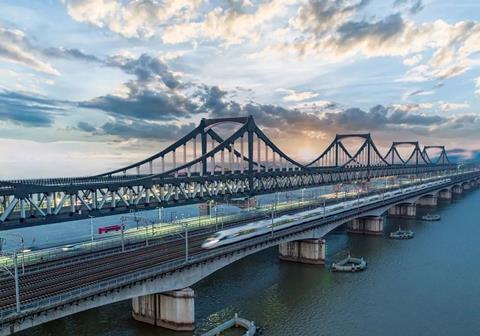 The line crosses the river on a 1 km combined road and metro bridge, built alongside the existing Pengbu road and railway bridges.
The line is operated using 45 six-car aluminium bodied Type A trainsets which were supplied by CRRC Nanjing Puzhen but assembled locally by Hangzhou CRRC Urban Rail Transit Vehicle Co. These are 3 080 mm wide and have a capacity of 2 260 passengers. They are fitted with wireless mobile phone charging facilities.
The trains are designed for a maximum speed of 120 km/h, giving an end-to-end journey time of 50 min.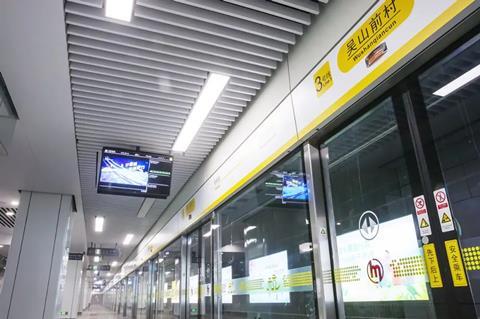 Also opened on the same day was a 4·7 km western extension of Line 3 from Wenyixilu to Wushanqiancun with three stations including an interchange to Line 19 at Hangzhou Xi. Another station is expected to open later. Line 3 has been commissioned in three stages, starting with an initial section on February 21 this year, and now totals 50·7 km main line plus a 7·8 km branch).
Line 10 has been extended south by 1·5 km from Xueyuanlu on Line 2 to an interchange with Line 3 at Huanglong Sports Centre. An intermediate station at Wensan yet to open will provide an interchange with Line 19.