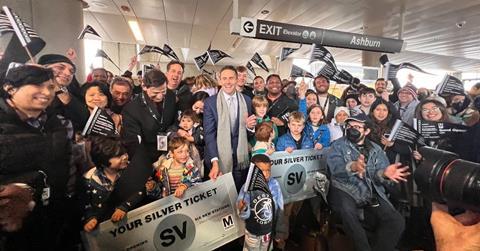 USA: The 18·3 km extension of the Washington metro Silver Line from Wiehle-Reston East to Dulles International Airport and Ashburn was opened for revenue service on November 15.
'Dulles was already known for the many direct flights it offers to and from destinations across the country and around the world, and now we finally have a direct and convenient connection from Dulles to downtown', said Washington DC Mayor Muriel Bowser at the inauguration ceremony.
Federal Transportation Secretary Pete Buttigieg said the extension would 'make life more affordable, give people better access to jobs throughout the region, reduce the time that drivers sit in traffic on our roads and provide a level of convenience getting to Dulles Airport that has been a long time coming'.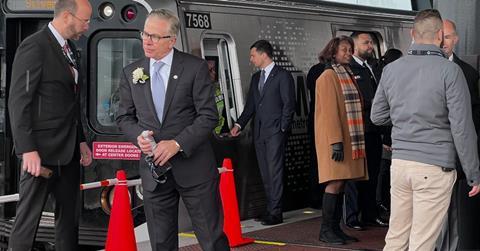 The 18·8 km first phase of the Silver Line from East Falls Church to Wiehle-Reston East was inaugurated in July 2014, at which time the second phase had been expected to open in 2018.
Virginia Governor Glenn Youngkin commented that the Silver Line had 'made the Dulles Corridor one of the fastest-growing business areas in the country'; the extension would 'build on that success and make Virginia even more competitive for business'.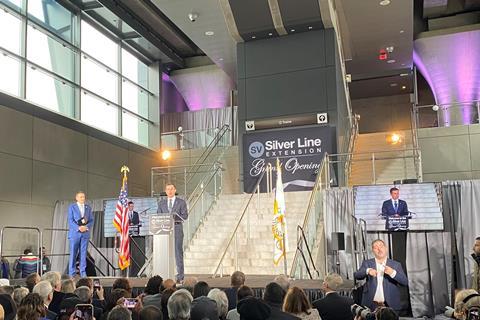 Design and construction of the extension was led by the Capital Rail Constructors joint venture of Clark Construction Group and Kiewit Infrastructure South under a contract awarded by the Metropolitan Washington Airports Authority. The completed line was then transferred to operator Washington Metropolitan Area Transit Authority.
Opening of the extension takes the WMATA metro network to 206 route-km serving 97 stations across the District of Columbia, Maryland and northern Virginia. The inaugural train carried nearly 100 passengers who had won special Silver Tickets by sharing their happiest memories of the metro.