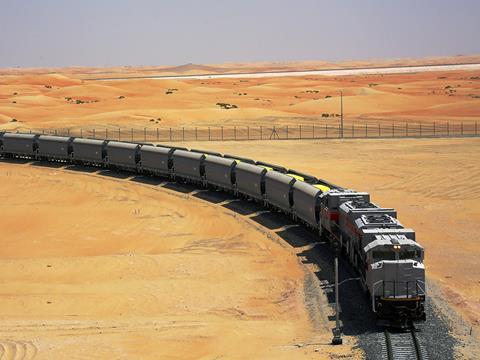 UAE: Tendering for the civil works for Stage 2 of the planned national railway network is expected to be launched shortly, after the UAE's Ministry of Finance and Abu Dhabi's Department of Finance signed a financing agreement on November 27.
The 264 km Stage 1 was completed in 2015, and now carries sulphur from the Shah and Habshan gas fields in the Al Dhafra region of Abu Dhabi to the Gulf port of Ruwais.
Stage 2 is planned to run 605 km across the UAE from Ghuweifat on the western border with Saudi Arabia to Fujairah on the east coast, via Mussafah, Khalifa Port and Jebel Ali Port. Completion is now envisaged for 2024, and is expected to increase the volume of freight carried from 7 million tonnes per year to more than 50 million tonnes.
Further expansion under Stage 3 would serve the northern emirates, Dubai Central, Port Saqr and Khor Fakkan, adding a further 250 route-km.
Earlier this year Etihad Rail appointed Egis to provide project management consultancy services for stages 2 and 3, and Jacobs Engineering to provide engineering and design services, including design oversight and construction supervision.
'The budget approval for Stage 2 of the United Arab Emirates' national railway network reflects the keenness of our leadership to implement national strategic projects', said Etihad Rail Chairman Sheikh Theyab bin Mohamed bin Zayed Al Nahyan.
'This project is part of our commitment to the UAE to help it achieve a leading position in transportation quality, in line with UAE Vision 2021, which aims to transform the emirate's economy into a competitive knowledge economy', he said, adding that the railway 'serves as a catalyst for economic growth by connecting key commercial and industrial centres and providing a safe and reliable means of transportation for future generations.'