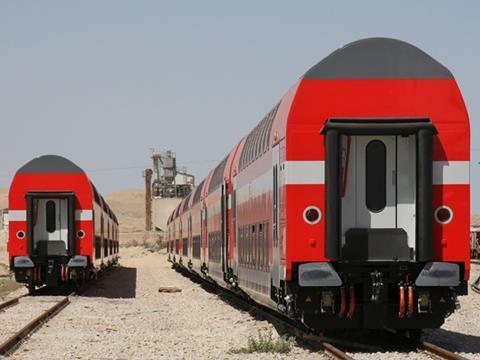 ISRAEL: Bombardier Transportation announced on May 10 that it had signed a €56m contract to supply a further 33 Twindexx Vario double-deck push-pull coaches to Israel Railways by February 2019.
The order has been placed within the terms of an October 2010 framework agreement, and will take ISR's fleet of Bombardier double-deck coaches to 462 vehicles supplied under five orders.
'Israel Railways is coping with a sustainable increase in ridership', said ISR's Head of Project Portfolio Dr Amir Itskovich. 'We are pleased to have the opportunity to receive additional proven and reliable rolling stock from Bombardier in order to further increase capacity'.
The new coaches will be an improved version of those currently in service, with carpeting on both levels, a 'state-of-the-art' passenger information system, powerful air-conditioning, secondary air-suspension and a safety system that allows departure only after the doors have fully closed.
Bombardier has begun training local staff to carry out the final assembly of coaches at ISR's Be'er Sheva workshops.