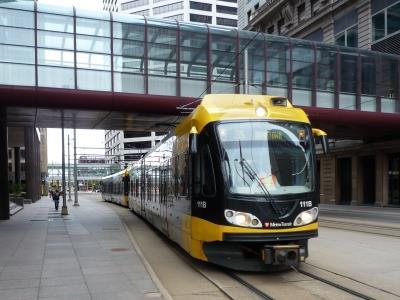 USA: Two contracts each valued at $16·8m have been awarded by the Metropolitan Council of the Twin Cities for preliminary engineering work on the 25·4 km Southwest light rail line in Minneapolis. AECOM will be responsible for the western section of the route, while the eastern section is to be developed by Kimley-Horn.
Serving 17 stations, the Southwest line will connect Minneapolis with Mitchell, serving suburban developments around Minnetonka, Hopkins and Eden Prarie, plus the City West business centre. The $1·25bn cost will be funded by the federal government (50%), the local Counties Transit Improvement Board (30%), Hennepin County Regional Railroad Authority (10%) and the state of Minnesota (10%).
Met Council received approval from the Federal Transit Authority to begin engineering design in September 2011. The preliminary engineering will determine the final alignment, including any elevated and tunnel sections. The consultants will also explore locations for the stations, park and ride interchanges and the rolling stock maintenance depot.
Construction is due to begin in 2015, with revenue services starting during 2018. The route will be worked as an extension of the Central Corridor currently under construction between Minneapolis and St Paul. Now being branded as the Green Line, this is scheduled to open in 2014. The Southwest line is projected to be carrying around 30 000 passengers per day by 2030.
Read more about light rail developments in the Twin Cities in the December 2011 issue of Metro Report International, available to subscribers in our digital archive.