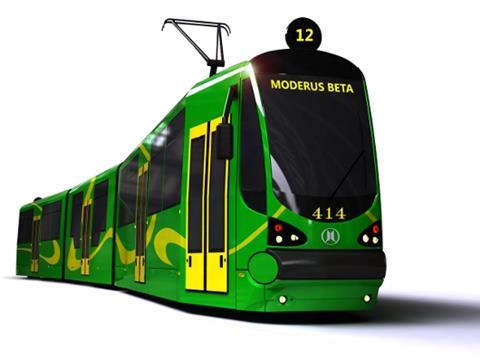 POLAND: Modertrans was the sole bidder to supply six trams to Wrocław in a tender that closed on April 23. The base order is worth 23m złoty, with an option for a further 16 trams.
The Poznań-based manufacturer plans to supply partially low-floor vehicles of its Moderus Beta design.
In 2014 city transport authority MPK Wrocław selected Pesa to supply six 100% low-floor Twist trams, with an option for 19 more, as part of the Integrated Rail Transport System in Greater Wroclaw Stage II programme. However, by the time EU co-financing for the project was confirmed, Pesa was able to supply only two trams from the option by the December 2015 deadline which applied to the EU financing agreement.
Six of the Pesa trams are to be delivered at the end of May and start of June, with the remaining two to come by the end of the year. 'We want to take the opportunity to buy as many trams as possible, and so we have called a new tender', explained MPK President Jolanta Szczepańska.
The new base order of six trams must be delivered before the end of 2015, whereas the options may be taken up until the end of 2017.