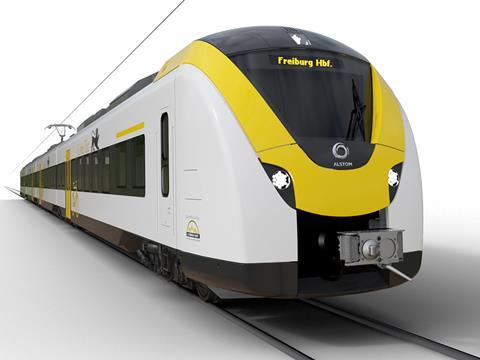 GERMANY: DB Regio has awarded Alstom a contract worth more than €130m for the supply of 24 Coradia Continental regional electric multiple-units.
These are to be used from December 2019 on Breisgau-Ost-West services around Freiburg. DB Regio is to operate these services under a contract awarded by the Land of Baden-Württemberg, which has also specified the new rolling stock.
The three-car and four-car 15 kV 16·7 Hz EMUs will have 164 or 249 seats, as well as multi-purpose areas for wheelchairs, bicycles and prams. There will be wi-fi, power sockets, CCTV and real-time passenger information including details of connecting trains. The roof-mounted traction equipment will give a maximum speed of 160 km/h.
The EMUs are to be built at Alstom's plant in Salzgitter. Announcing the latest contract on October 27, Alstom said seven German customers have now ordered Coradia Continental units since 2008 and 222 are now in service, including more than 100 with DB Regio.