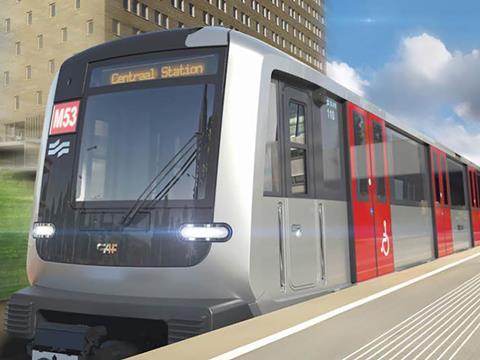 NETHERLANDS: Amsterdam city transport operator GVB formally signed a contract for preferred bidder CAF to supply 30 three-car metro trainsets on November 28. Entry into service is planned from mid-2021, with the new trainsets replacing the S2 and S3/M4 fleets from 2024 and 2027 respectively.
Branded Inneo by the manufacturer and Type M7 by the operator, the new trains are intended to be recognisably similar in appearance to Amsterdam's existing metro stock. Each aluminium bodied trainset will be 59·6 m long and 3 005 mm wide, with two driving motor cars and an intermediate trailer. They will have a maximum speed of 80 km/h and will be able to operate in multiple at peak times.
The interiors will feature wide gangway and high windows. Each three-car trainset will be able to carry 480 passengers at 4/m2 including 78 seated on mostly longitudinal seats, and will have two spaces for passengers with reduced mobility. The climate control system will include underfloor heating to maintain a 'pleasant' temperature throughout the year.
The trains will operate on 750 V DC third rail power in service, but will have an auxiliary pantograph for use in the depot. They will have LED lighting and low-energy auxiliary equipment, and will be equipped for regenerative braking.
The trains will be equipped for GoA 2 attended semi-automatic operation, with provision for GoA4 unattended operation in the future when the cabs would be removed.
There is an option for a further 30 trains which could help to accommodate growth.