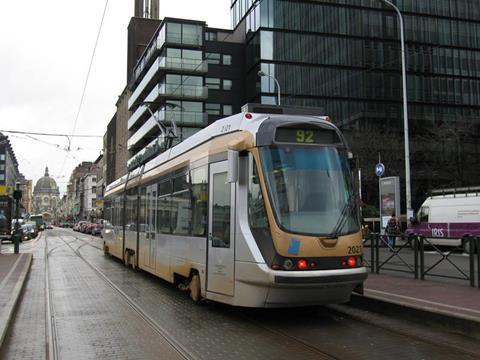 BELGIUM: Brussels city transport operator STIB has selected Bombardier for a framework contract to supply up to 175 trams, it announced on February 5. STIB expects to sign the contract after the 15-day standstill period.
The base order for 60 vehicles is worth €169m excluding VAT, and includes spare parts and a driver training simulator. Bombardier will also be responsible for the vehicles' maintenance.
The trams will come in a 32 m short version and a 43 m long version. All will be fully low-floor with two multifunctional spaces. Axel Enthoven is to design the styling, which will be inspired by Art Nouveau.
Deliveries are due to begin in early 2020. The trams would replace some of STIB's oldest high-floor trams, as well as enlarging the fleet. The base order would increase the total capacity of the tram fleet by around 7%, according to STIB.
The procurement forms part of the Brussels government's public transport investment programme for 2015-25, which is worth €5·2bn in total. In 2017 STIB set a new ridership record, carrying 401 million passenger-journeys across all its modes, an 8% increase from 2016.