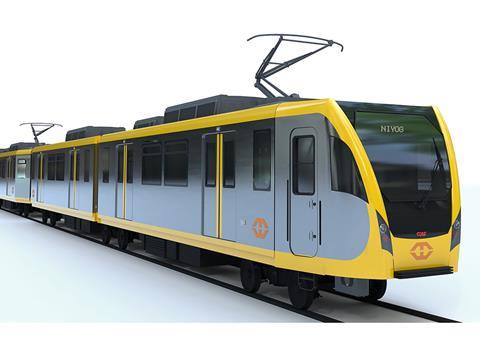 PHILIPPINES: The Department of Transportation has awarded Mitsubishi Corp and manufacturing partner CAF a €225m contract to supply 30 trainsets for Manila metro Line 1. Announcing the order on November 20, CAF said this was its first contract in the Philippines. Deliveries are scheduled for 2020-22.
The bidirectional trainsets powered from a 750 V DC overhead supply will have a maximum operating speed of 70 km/h. They will be 106 m long, with the high-capacity layout offering 276 seats, space for large numbers of standing passengers and 16 doors per side.
The elevated Line 1 currently runs 20 km from north to south, and is being extended 11·7 km south to Bacoor in Cavite province. The rolling stock order is being funded through a Japanese ODA loan agreement between the governments of Japan and the Philippines, in support of a programme which aims to improve capacity, improve service quality and reduce pollution in the densely-populated city.
CAF and Mitsubishi Corp have previously worked together to win several contracts, including the supply of driverless metro trainsets for Istanbul Line M5 and trams for the future line in Canberra.
The Philippines and Japan have exchanged notes for the ¥800bn Metro Manila Subway Project, after Japanese Prime Minister Shinzo Abe pledged to finance approximately ¥600bn of MMSP's project cost during the Japan-Philippines Summit on October 30-31. A ¥105bn first tranche loan agreement is expected to be signed in January 2018.