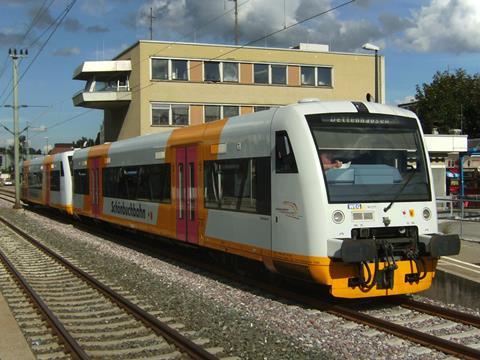 GERMANY: Transport authority Zweckverband Schönbuchbahn has selected CAF for a €51·3m contract to supply nine three-car light rail vehicles of a new design for use on the Schönbuchbahn. The 17 km locally-owned railway southwest of Stuttgart is to be upgraded and electrified to accommodate growing ridership.
Announcing the agreement on December 21, CAF said the rolling stock supply contract would be worth €51·3m, and there would also be a 19-year deal to maintain the fleet at a three-track depot which ZVS is to build in Böblingen. There will be an option for a further 19 units.
This is the Spanish manufacturer's second rolling stock project in Germany, after the supply of trams to Freiburg.
CAF said the three-car air-conditioned units for the Schönbuchbahn would have the capacity to transport a large number of passengers, with wide walk-though gangways and areas for persons with reduced mobility. The external styling would be 'dynamic' with 'fluid lines'.
Entry into service is planned for the end of 2020, when electrification is scheduled for completion. This is expected to reduce the end to journey time from 27 min to around 22 min, and enable frequencies to be increased in the peaks.
A separate tender is to be called for a contract to operate the services, which are currently provided by Transdev subsidiary Württembergische Eisenbahn using a fleet of eight Regio-Shuttle RS1 diesel railcars.