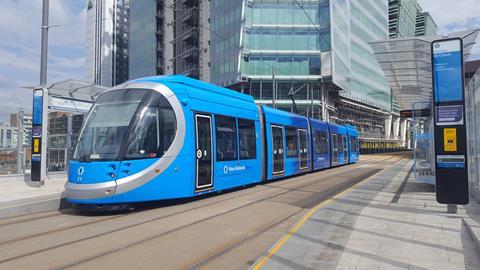 UK: The West Midlands Combined Authority has selected CAF to supply 21 additional battery-equipped trams for the West Midlands Metro light rail line from late 2021, with an option for 29 more.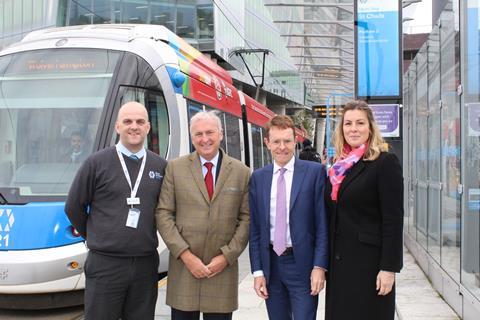 The £83·5m contract was announced on October 7 following a competitive tender. It includes the provision of spare parts, as well maintenance and renewal of the onboard lithium-ion batteries during the 30-year design life of the vehicles.
The line's Centenary Square extension in Birmingham, which is scheduled to open in early 2020, will be the first section of modern tramway in the UK to feature catenary-free running, eliminating the need for the potentially disruptive and expensive installation of visually-intrusive overhead electrification equipment.
CAF said the latest batch of trams would have an enhanced bodyshell design and changes to improve energy efficiency improvement. However, from a passenger perspective the look and feel would be the same as the current fleet of 21 CAF Urbos trams, which are being retrofitted with Saft's Greentech lithium-ion batteries under a separate contract, the current fleet.
'The CAF Urbos tram will be the first example of battery technology being used in a high-intensity passenger service here in the UK', said CAF's UK Director Richard Garner He added that the 'modern, spacious design' of the new 70 km/h trams would 'provide passengers with a quiet, smooth and comfortable travel experience'.
Read Metro Report International's in-depth article on how the development of the West Midlands tram network is being underpinned by innovative management and procurement models.