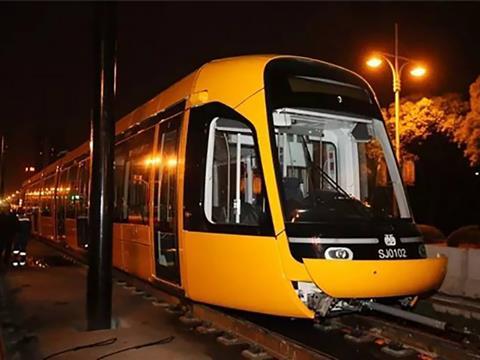 CHINA: Test running on the first two lines of the tramway under construction in the Songjiang district of southwestern Shanghai is set to begin shortly, following the delivery of the first vehicles.
In April 2015 Shanghai Songjiang Tramway Investment & Operation Co placed a €72m order for 30 Citadis trams with the Shanghai Alstom Transport joint venture of Shanghai Rail Traffic Equipment Development Co (60%) and Alstom (40%). This was the first order for Citadis trams in China.
The five-section bidirectional cars are 33 m long with four twin-leaf and two single-leaf doors per side. Alstom's La Rochelle plant in France is providing the control and monitoring software and Villeurbanne the hardware, Le Creusot the bogies and Tarbes technical support for the power modules. The Sesto site in Italy is providing technical support for the traction inverters.
The initial two lines of the planned six-line tram network are expected to open in 2017. The 15·7 km route T1 will run east–west from Xinqiao via Jinxi Road and North Sanxin Road to Chenta Road with 24 stops. The 15·1 km route T2 with 21 stops will follow the same alignment before branching of at Jinxi Road and running to North Guyang Road and then rejoining T1 at North Sanxin Road. A 0·6 km branch of T2 will run from North Guyang Road to Songjiang University Town.
A western extension of T1 is planned to open by 2020, as well as the four additional lines totalling 68·7 km which would take the network to around 100 km and 118 stops.