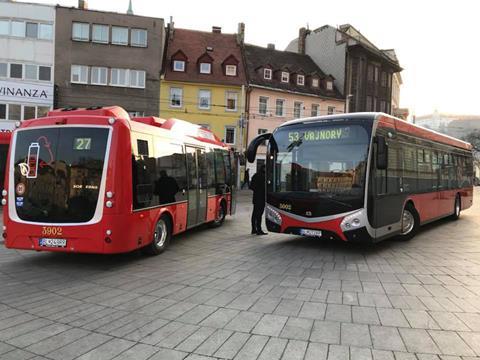 SLOVAKIA: The first four of 18 electric buses that SOR is supplying entered revenue service in Bratislava on January 26.
The two 12 m long NS 12 buses and two 8 m long EBN 8 vehicles are fitted with pantographs, although until the opportunity charging stations are completed, they are charged overnight at the Krasňany garage.
The air-conditioned buses are equipped with a passenger information system, wi-fi and USB charging sockets. The NS 12 buses have three 1 200 mm wide doors and 35 seats, and are powered with a 160 kW asynchronous motor. The EBN 8 buses have 16 seats, one 800 mm and one 1 200 mm door, and a 120 kW asynchronous motor.
Operator DP Bratislava is due to receive 14 more NS 12 buses this year. It has ordered these at a cost of €589 000 per bus, with the EBN 8 vehicles coming in at €488 000 each.