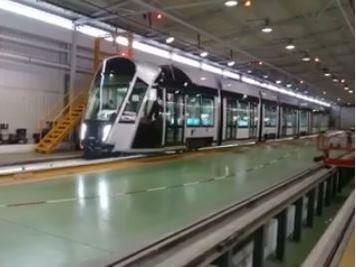 LUXEMBOURG: The first tram for the line under construction in Luxembourg City is due to be delivered next month. It is currently undergoing dynamic tests at CAF's factory in Zaragoza, where two further trams are currently in production.
More than 30 000 people saw a full-scale mock-up that went on display in the city in December 2015, and public feedback has influenced the final layout of the vehicle, on which work started in March. The trams are 45 m long, 2 650 mm wide and 3·6 m high, with capacity for 300 passengers, including 75 seated.
CAF is supplying 21 Urbos trams under an €83m contract signed in 2015. Nine are required for the first section of the line, which will link Luxexpo and Pont Rouge. This section is due to open this year, with extensions at both ends envisaged to open in 2020-21.
There will be no catenary on the 3·6 km between Pont Rouge and the main line station, so the trams are being equipped to operate using CAF's ACR Freedrive ground-level charging system on this section.