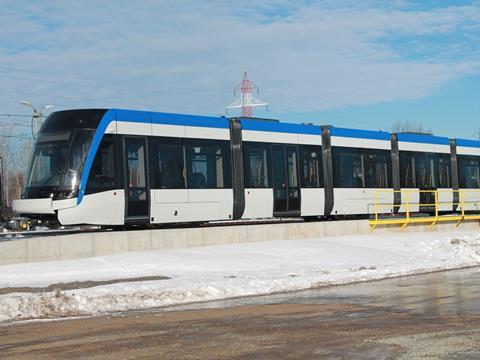 CANADA: The first light rail vehicle for the ION light rail project in the Region of Waterloo left Bombardier's Thunder Bay plant on February 15. Delivery is expected to take 10 to 12 days.
The project promoter aims to unveil the vehicle to the public in April at an event at its maintenance depot at Dutton Drive in Waterloo. Dynamic testing is expected to begin in the spring, starting on a section of the route between Northfield and the junction of Caroline Street and Erb Street.
The second LRV is due to be shipped from Bombardier's Kingston plant in June or July. Bombardier is supplying 14 Flexity Freedom LRVs under a C$66m contract signed in 2013 that includes options for 14 more. The five-module, 100% low-floor vehicles are 30·2 m long and 2 650 mm wide.
A groundbreaking ceremony was held for the 19 km Stage 1 in August 2014, and 96% of the track has been laid on the route between Waterloo and Kitchener. Due to open next year, this is being built by the GrandLinq consortium of Keolis, Plenary Group, Meridiam, Kiewit and Aecon under a 33-year DBFOM contract.
Stage 1 also includes a bus rapid transit route between Cambridge and Kitchener, which opened in September 2015. In Stage 2 this will be converted to light rail. This is in the planning stage, and a public consultation runs until March 17.
'As ION moves people within the region, it is shaping the community for the future', said Regional Chair Ken Seiling. 'ION and an improved transit system will help us protect our farm and rural land and concentrate development in our urban areas.'