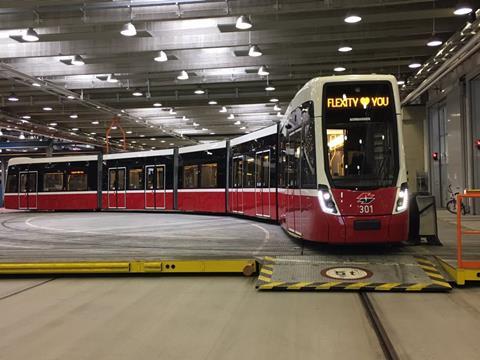 AUSTRIA: Transport Leader for Wien city council Ulli Sima joined officials from Wiener Linien and Bombardier Transportation to present the first Flexity Wien tram to the public on January 18, as testing of the vehicle started.
Bombardier handed over the tram from its Wien factory at the end of last year, and it is expected to enter passenger service at the end of this year.
Wiener Linien awarded Bombardier a framework contract in 2015 covering up to 156 trams. The €431m base order for 119 includes 24 years of maintenance support under Bombardier's FlexCare programme. Options would be exercised in accordance with future expansion of the network, with the contract potentially worth up to €562m.
The vehicle is 34 m long and 2 400 mm wide with capacity for 211 passengers and an entrance height of 215 mm above the rail. In order to save energy, the LED lighting and air-conditioning automatically adjust to the number of passengers on board.