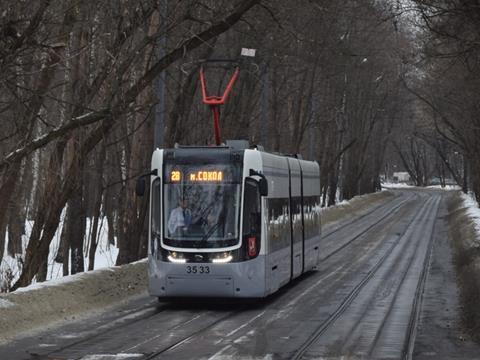 RUSSIA: Deliveries of Pesa Fokstrot trams to Moscow resumed on October 25, when 10 trams were shipped from Pesa's factory in Bydgoszcz to the Russian capital.
Operator Mosgortans signed a contract in 2013 for 120 Fokstrot trams to be supplied by Pesa in co-operation with Uraltransmash. Following the steep devaluation of the rouble, the contract had been suspended the following year. Pesa had built a total of 82 Fokstrot trams and 60 trams had been delivered. The revised contract specifies the delivery of a further 30 trams, rather than 60, bringing the total order to 90.
As with the Fokstrots already delivered, the latest batch will operate on the isolated network in northwest Moscow, using the Krasnopresnenskoye depot.