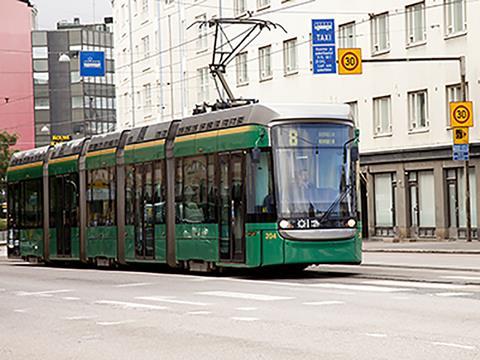 FINLAND: Helsinki transport authority HKL and Bombardier Transportation have reached an agreement which will see the 40 Variotrams withdrawn from service in the Finnish capital by the end of 2018.
The Variotrams were delivered by Adtranz (later Bombardier Transportation) in 1998-2003, but the track profiles and operating conditions on Helsinki's metre gauge network caused problems for the vehicles.
Modifications to the articulation and bogies were undertaken in 2006-07, since when Bombardier Transportation has been responsible for maintenance of the Variotram fleet under a 35-year contract. However, it has been decided that it is not possible to make the cars fully compatible with the Helsinki network.
The trams are expected to have many years of potential operational life left. Under the agreement signed on November 30, Bombardier Transportation and HKL will co-operate to try to find a new home for them on a network where they would be better suited to the infrastructure.
In July two of the Variotrams were transported to Germany for testing in Mannheim, Heidelberg and Ludwigshafen.
Single tickets will no longer be sold by Helsinki tram drivers with effect from February 1, under a plan to reduce dwell times by up to 17%. Tickets will instead be sold through 385 car parking payment machines, as well as vending machines at stops and through the smart ticketing system Bombardier Transportation has been responsible for maintenance of the Variotrams since 2007.