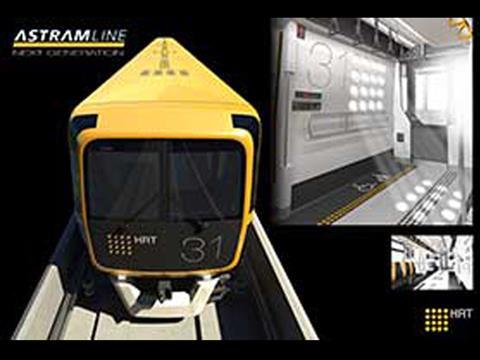 JAPAN: Hiroshima Rapid Transit Co has awarded Mitsubishi Heavy Industries a contract to supply 11 six-car Automated Guideway Transit rubber-tyre trainsets for New Transit Line 1, the Astram Line. They are scheduled to enter service in 2019-25, to replace the vehicles which were delivered for the opening of the line in 1994. The 18·4 km route carries 63 000 passengers/day.
MHI said the new vehicles would have its Al-Fine aluminium alloy double-skin structure, which is lightweight, durable and easy to recycle. The T-smover bogies would be designed to improve the ride comfort by reducing swaying, while the specially designed G-Fit semi-high-back bucket type seats would provide body support while 'naturally encouraging seated passengers to keep their legs tucked in close so as to avoid extending them into the aisle'.
The chrome yellow colour scheme was selected to convey peace, 'a befitting symbol for Hiroshima', according to MHI.