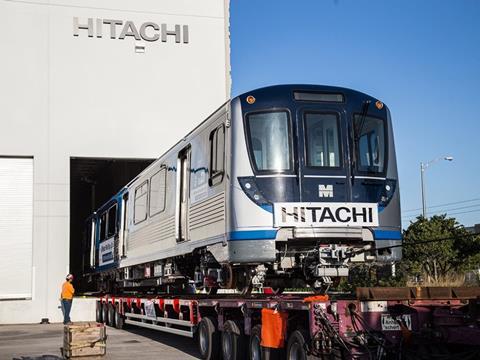 USA: Hitachi Rail Italy has delivered the first of 68 two-car trainsets that it is supplying for Miami-Dade Transit's Metrorail network. The trainset arrived at Metrorail's Lehman Center depot from HRI's Medley plant in northwest Miami.
Dynamic testing is due to begin in the next few weeks. The second and third pre-series trainsets are undergoing tests at Medley, and are due to arrive at the Lehman Center in June or July.
Miami-Dade Transit placed the rolling stock order with AnsaldoBreda for $300m in November 2012, before the manufacturer was acquired by Hitachi. The Hitachi Rail USA subsidiary inaugurated its first US assembly plant in March 2016, and production of the trains is due to be completed in the first half of 2019.
'The American continent is strategic for us and we are sure we can offer products that improve daily mobility', said HRI CEO Maurizio Manfellotto.