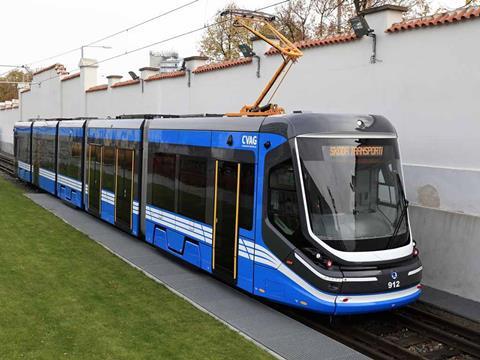 GERMANY: Škoda Transportation has officially presented the first of 14 trams that it is supplying to Chemnitz transport operator CVAG.
CVAG and Škoda signed a €35m contract in 2016 for the supply of the bidirectional ForCity Classic trams. The first is expected to enter passenger service early next year, with all 14 due to be delivered by mid-2019.
The fully low-floor air-conditioned trams are 31·4 m long and 2 650 mm wide with capacity for 281 passengers including 64 seated. They have two multifunctional spaces that can accommodate a total of up to four wheelchairs or six bicycles. The stainless steel bodied vehicles are fitted with permanent magnet motors that offer a maximum speed 80 km/h, but they will be limited to 60 km/h in service in Chemnitz.