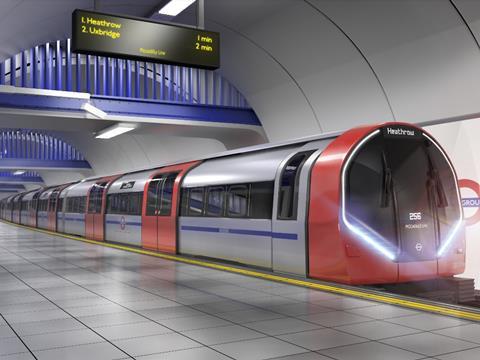 UK: A legal challenge to Transport for London's selection of Siemens as preferred bidder to supply new trainsets for London Underground's Piccadilly Line was confirmed by Bombardier Transportation and Hitachi on July 23.
'Hitachi Rail and Bombardier Transportation confirm that they have issued claims in the High Court against London Underground Ltd's decision not to select our consortium bid for the Deep Tube Upgrade Programme', Bombardier Transportation told Metro Report International, adding that it was unable to provide further comment because it was now a matter for the court.
Transport for London said it would review the claims and respond to them. 'We see no good basis for these claims to be issued and are disappointed that these companies have chosen to take this step', a spokesperson told Metro Report International.
The £1·5bn contract covering the supply of 94 small-profile metro trainsets for London Underground's Piccadilly Line is intended as first rolling stock contract to be placed under TfL's Deep Tube Upgrade Programme. TfL envisages that future orders would follow for the selected manufacturer to supply similar trainsets for the Central, Bakerloo and Waterloo & City lines.
TfL invited Alstom, Bombardier, CAF, Hitachi and Siemens to tender for the programme in 2016, and bids were received from Alstom, Siemens and a joint venture of Bombardier and Hitachi.
On June 15 this year TfL announced that it had selected Siemens Mobility as preferred bidder. Delivery of the trainsets is scheduled to begin in 2023, from a factory that Siemens plans to build in Goole, East Yorkshire.