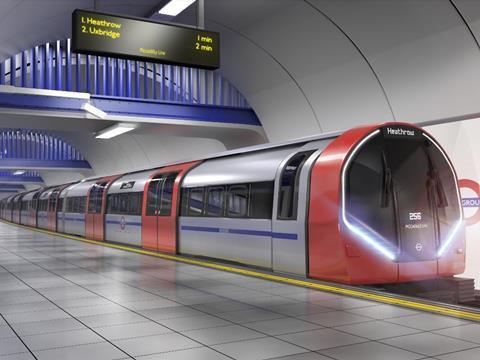 UK: A contract for Siemens to supply a new fleet of trains for London Underground's Piccadilly Line is expected to be formally signed shortly, Transport for London has confirmed.
Metro Report International understands that the formal signing will not be for at least two weeks.
Siemens was name preferred bidder for the Deep Tube Upgrade Programme rolling stock contract on June 15, however losing bidders Bombardier Transportation, Hitachi Rail Europe and Alstom Transport launched legal challenges which automatically prevented award of the contract. Transport for London said it saw 'no good basis' for their objections and applied for the suspension to be lifted, which was granted by the High Court on November 2.
'We are pleased with the decision, which will enable us to award the contract to Siemens Mobility Ltd and ensure we can begin to deliver a new fleet of Piccadilly line trains by 2023', said newly appointed London Underground Managing Director Nigel Holness.
He said the replacement of 'the trains in our fleet that are most in need of modernisation, some of which were built in the 1970s' would 'significantly improve the experience for millions of our customers travelling on our network.'
The initial £1·5bn contract would cover the supply of 94 small-profile metro trainsets for the Piccadilly Line, and is intended as first rolling stock contract to be placed under the Deep Tube Upgrade Programme. TfL envisages that future orders would follow to supply similar trainsets for the Central, Bakerloo and Waterloo & City lines.
TfL invited Alstom, Bombardier, CAF, Hitachi and Siemens to tender for the programme in 2016, and bids were received from Alstom, Siemens and a joint venture of Bombardier and Hitachi. Delivery of the trainsets is scheduled to begin in 2023, from a factory that Siemens plans to build in Goole, East Yorkshire.
An Alstom spokesman said the company believed its bid was 'very competitive' and 'based on successful experience of delivering metro trains around the world, including London.'