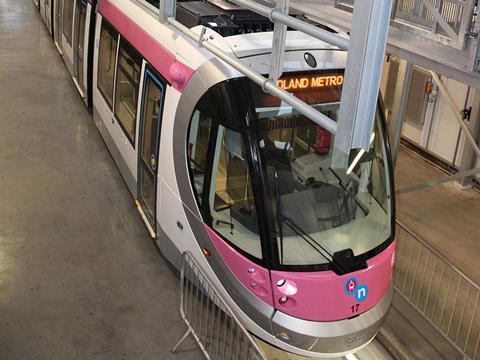 UK: The West Midlands Combined Authority has begun the process of procuring a third generation of trams for the Midland Metro line, including future extensions.
The start of procurement follows a market sounding exercise undertaken earlier this year. The planned framework contract with an estimated value of £150m plus VAT would run from April 2019 until the end of 2027, and would include options for maintenance services.
A staged tendering process is to be used, with requests to participate required by September 14. Potential bidders must respond to a questionnaire, following which the four highest scoring respondents would be invited to negotiate further.
Prospective bidders are required to demonstrate their tram manufacturing and maintenance experience and capabilities, including with catenary-free operation.
The first generation of Midland Metro trams was supplied by Ansaldo for the opening of the line in 1999. They were replaced by the second generation fleet of CAF Urbos vehicles which entered service from 2014.