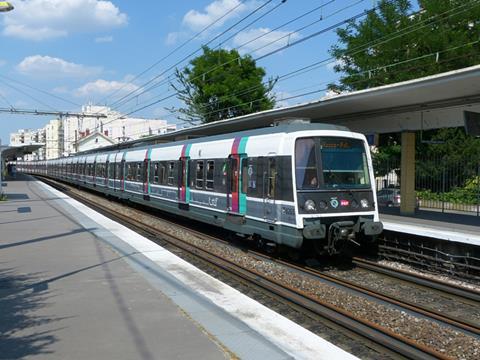 FRANCE: Île-de-France Mobilités, RATP and SNCF have called tenders for supply of replacement rolling stock for Paris RER Line B which links Roissy-Charles de Gaulle Airport and Mitry-Claye northeast of Paris with Robinson in the south and St Rémy-les-Chevreuse in the southwest. The contract covers a firm order for 146 trainsets with an option for 34 more.
Dubbed Matériel Interconnecté de Nouvelle Génération, the MING fleet will replace 117 MI79 trainsets and 31 similar MI84 sets. The trains will need to be able to accept RATP's 1·5 kV DC power supply and SNCF's 25 kV 50 Hz on lines north of Paris Gare du Nord. First delivery is required in 2024 with a view to the trains entering service the following year.
The specification requires a 20% to 30% increase in capacity compared with the present fleet within a train length of 208 m. This reflects the essential role that Line B plays in Paris transport, with 900 000 passengers a day using the route.
Dimensions should allow for the trains to be all or partly double-deck with wide walk-through gangways. Climate control, video surveillance and onboard passenger information systems are essential. Provision for passengers in wheelchairs must be made in the leading vehicle of each set, and 10% to 20% of accommodation should be available for mobility-impaired passengers.
Catherine Guillouard, President-Director General of RATP, said that 'this massive investment by RATP and Île-de-France Mobilités demonstrates our commitment to improve the regularity, punctuality and quality of service for RER passengers'.
Although all MI79 trainsets and most of the MI84 fleet have been refurbished, RATP and SNCF have brought forward the programme to replace the Line B stock, previously planned for 2029-30.