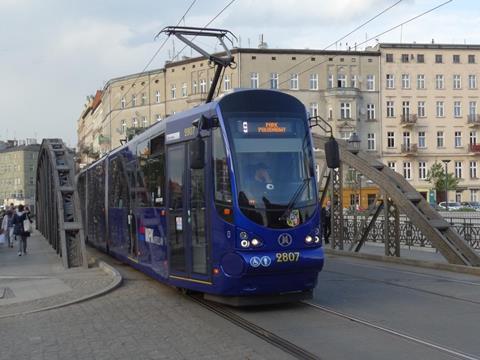 POLAND: Modertrans submitted the cheapest bid to supply 40 trams to Wrocław, transport authority MPK Wrocław announced on July 21.
Modertrans' offer of 176·2m złoty for the 27% low-floor Moderus Beta compares with a bid of 324·4 złoty from Pesa, which is offering its 100% low-floor Twist model.
The tender specifies that the air-conditioned trams must be at least 20% low-floor. Deliveries are due to take place between October 15 2018 and November 30 2019.
MPK Wrocław is currently taking delivery of Moderus Beta trams ordered last year. Six trams forming the base order of a contract signed in 2015 and three from an option have already been delivered, with the 13 trams from the second and final option due to arrive by the end of 2017.
The partly low-floor trams will replace MPK's high-floor Type 105Na vehicles. Although poor track condition limits the use of fully low-floor trams, MPK intends to order 100% low-floor trams in the future. The next tender would cover 32 trams, which would enter service in 2020-22.