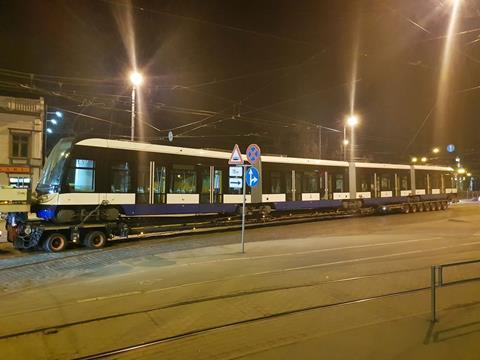 LATVIA: The first of five 41 m long trams which Rīgas Satiksme ordered from Škoda Transportation in 2016 arrived in the city on the night of April 15-16 and was unloaded at the Aleksandra Vārtu depot.
The €62·6m contract signed in April 2016 covers 15 three-section and five four-section low-floor 15T trams, along with spare parts and 30 years on maintenance. The longer trams are to be used on cross-city Route 1 from Imanta to Jugla. Two of the three-section trams to be deployed on Route 4 were delivered last year.
Škoda had previously supplied 20 three-section and six four-section trams, which operate on routes 6 and 11 of the 1 524 mm gauge network.
Rīgas Satiksme plans to buy a further four long and eight short trams ahead of a planned 3·6 km network expansion to Skanste district.