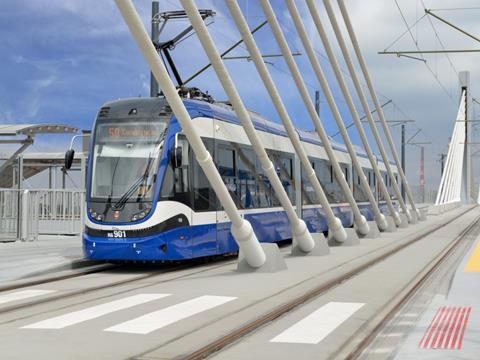 POLAND: Pesa has submitted the best offer to supply trams to Kraków, operator MPK Kraków announced on August 8. Pesa beat bids from Newag, Škoda and a consortium of Stadler and Solaris.
Pesa put in a bid of 299·2m złoty for the base order of 35 trams. The contract includes options for up to 15 more, which would have an estimated value of 128·3m złoty if exercised.
In December implementing agency Centre for EU Transport Projects signed agreements with MPK Kraków allocating 124·9m złoty of EU funds towards the purchase.
Trams from the base order must be delivered within 30 months from contract signature. The options can be exercised until October 31 2021, with deliveries to be completed by October 2023.
The tender specifies that two prototypes are to be equipped for up to 3·5 km of off-wire operations, so that trams do not get stranded on neutral sections of the network.